Fluorescence and Phosphorescence in the Energy Level Model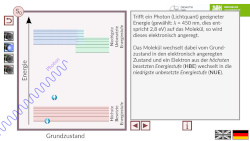 This animation sheds dome light on the energetic processes that happen during the fluorescence and phosphorescence.
© N. Meuter, M. W. Tausch
---
The HTML5-Logo by the W3C is used under the terms of the Creative Commons 3.0 - license.
Flash Animations need the adobe flash plugin.