E-books for teaching chemistry
Within the scope of final theses or dissertation projects, the didactic concepts developed for innovative topics are also made available in the form of e-books. The designed e-books can be divided into two categories depending on the format used:
Static e-books and Dynamic e-books
Static e-books
Static e-books in ePub format that contain interactive elements such as videos in addition to experiments and tasks for chemistry lessons.
Keeping Track of Heat by Simon Kleefeldt
The innovative concept for using the thermal imaging camera in chemistry lessons was developed for a learning unit in form of an e-book, in which students approach heat (energy) in various experiments:
Dynamic e-books
Dynamic e-books, on the other hand, can be used as a laboratory folder for documenting experiments and processing course material. They offer a high degree of interactivity through quizzes or self-tests and enable independent learning supported by digital media in chemistry lessons. Dynamic help cards, which students can choose to use themselves, allow for internal differentiation according to ability.
Solar cells with Titanium Dioxide by Diana Zeller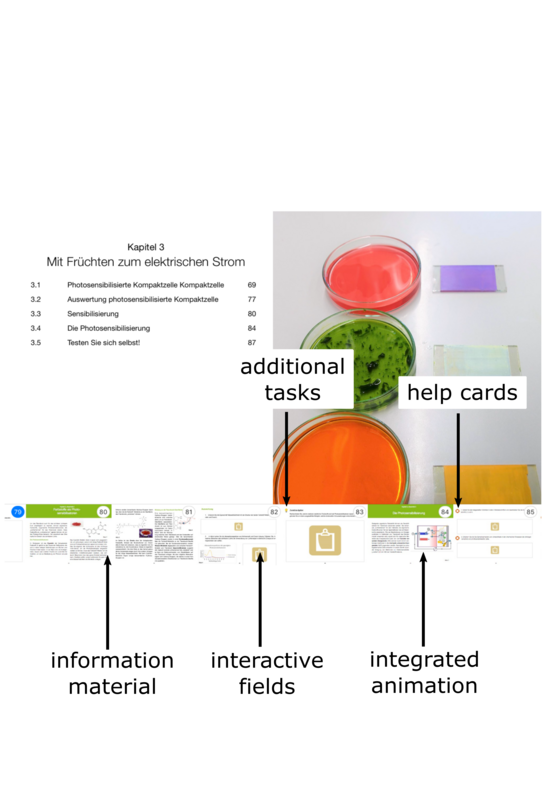 The interactive e-Book "Solar cells with Titanium Dioxide" includes a didactic concept with which the topic of solar cells can be integrated into chemistry lessons in high school classes. Using the galvanic cell as a didactic anchor the e-book includes several student experiments and materials which are differentiated according to learning performance.