Light to electricity and vice versa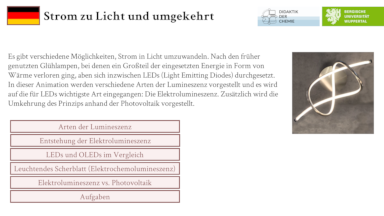 This animation is a revised version of the animation on electroluminescence. The focus is on the explanation of the phenomenon of electroluminescence, which is used in many modern lamps and displays.
Photovoltaics, in which the process is reversed, is also addressed.
In addition, other luminescences are presented and further reaction possibilities from the excited state, which plays a central role in all processes.
This animation has been created using Godot.
Start HTML5-Animation (Godot-Runtime; German/English)
© N. Meuter, C. Bohrmann-Linde, M. W. Tausch